---
2022 National Convention Follow-up
The NYS HEALTH CARE UPDATE Concurrence
was ADOPTED with 99.9% in favor.
NOW WHAT?!
What do we need to do together to further what we achieved
at the 2022 LWV National Convention?
---
CONVENTION 2022 — June 23-26
CONCURRENCES (2) AND CAUCUSES (3)!*
Delegates Supported Two Concurrences supported by HCR4US at the 2022 Convention
NYS Concurrence to Update the 30-year old LWVUS Health Care Position CLICK

99% voted to adopt!
For a 1-page flyer with brief overview of the update, CLICK

Rural Affairs Concurrence with CT to add a position on Digital Equity (Broadband) CLICK
HCR4US Members Presented Three Caucuses: 2 focused on the proposed Concurrences, and a third providing more general education to give a greater sense of urgency for action on health care reform on the part of LWVUS and individual League members.
"Education on the Proposed Concurrence with Excerpts of (recently studied and newly adopted) New York State Health Care Positions": Clarifying and expanding the current LWVUS HC Position so it is better able to further the League's DEI position and combat the perils of a pandemic.
"Achieving Digital Equity": Education about the need for advocacy and how Concurrence with CT position will give Leagues an immediate tool for advocacy.
"Crises in Healthcare and the Search for Solutions" with a focus on Quality, Equity, and Affordability.
(*Background on what these special "League-terms" (concurrence and caucus) mean is appended to the bottom of the page.)
Now, though, we need to answer the new question:
Now WHAT??!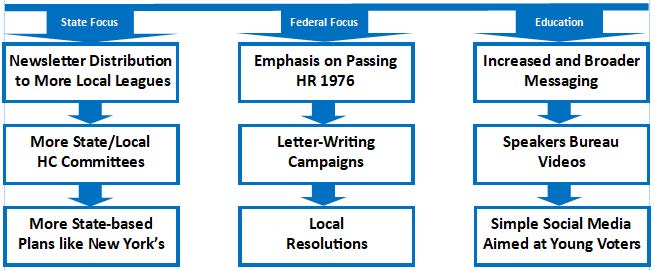 Where can you and your local League be most effective?
What does the new position empower us to do?
When your proposed action is consistent with a position, what constraints are still placed on League members?
For non-priority federal issues, which is everything but "Making Democracy Work" and achieving diversity, equity and inclusion, DEI, an Action Alert from LWVUS is required. They are generally published in the bi-weekly "League Update." When there is no active Action Alert, Leagues can file a Federal Action Request Form (FARF) to seek authorization from and coordinate with LWVUS. The relevant section in Impact on Issues is the description and link for the FARF https://www.lwv.org/federal-action-request-form. (Available on the Management Site.)
It's almost a mantra: "Local Leagues may take local action on local issues and state Leagues may take state action on state issues. To take federal action—including legal action—state and local Leagues must seek authorization from and coordinate with LWVUS [using the form found at the link above]." 
"This includes any effort aimed at influencing a decision on a federal issue, such as communicating with an elected or appointed official or government agency, joining a coalition, taking part in a national press conference or rally, writing a letter-to-the-editor in a national publication, sending a demand letter relating to a violation of federal law, or joining any legal action as a party (e.g., plaintiff, intervenor, amicus) to be filed in federal court using the LWV brand."
In the FARF, you will be asked, among other things, to explain how the proposed action is based on a "position"–that is, based on research and then ratified by the membership at a national convention. 
This clip, from the August 2023 monthly Zoom meeting for HCR4US membership and guests, explains how to use a position to guide action on legislation. In it, Harriette notes that the Health Care position, for example, does not list any bill numbers.  Judy explains that positions don't support specific bills, but rather are used to evaluate whether a bill is consistent (or not) with the position, and thus we could (or could not) advocate for the bill.
How to use a position:  https://drive.google.com/file/d/1O8FMFOm0a6imbXQWJmiu-KTU-S7ce-yG/view?usp=share_link
WHY IS THE HEALTH CARE UPDATE CONCURRENCE IMPORTANT? WHY NOW?
By adopting (passing) these concurrences, convention delegates have updated our national position to speak to current concerns including health and digital inequities that have grown more severe over three decades — without having to conduct their own studies, create their own study materials, and go through their own consensus process. Adoption also strengthens the ability of all Leagues to advocate on LWVUS program priorities, such as reforms to address widening disparities among vulnerable populations in health care and the digital divide, inequities both exacerbated and made more visible by the COVID pandemic
Since most local and state Leagues use the national position when they don't have one of their own (as in health care and digital equity), having an updated national position benefits all. Thus, this concurrence benefits state and local Leagues without requiring additional resources from the national League.
The "nutshell" version of the explanation was presented 5/5/22 at a Program Planning webinar organized by LWVUS. HCR4US member Judy Esterquest of LWV Port Washington Manhasset (PWM) describes the rationale and benefits of the concurrence a 5-minute video with 3 slides.
<put the 3 images from slide file here>
WHY IS THE DIGITAL EQUITY CONCURRENCE IMPORTANT? WHY NOW?
High speed Internet—or broadband—means a fast Internet connection through cable lines, telephone lines, power lines, or by wireless technologies. Universal access is important because all consumers need fast, high-capacity connections to conduct business efficiently, to telecommute, to engage in political discourse, to communicate with their legislators, to use Internet telephone services, to get speedy access to e-mail communications, and to view live video or radio broadcasts." (15)
The ongoing COVID-19 pandemic has intensified our awareness of this need. To the Connecticut list we would now add that universal access is increasingly essential:
so that all students can access online or hybrid classes;
so that all households have access to telemedicine and advanced diagnostics, especially in rural areas with few primary care doctors and fewer specialists;
so that all residents have access to a wider range of local/national news and information than is currently available;
so that workers can connect remotely from home.
---
Lexicon for Special "League-terms":
I. What is a (LWV) CONCURRENCE?
A concurrence is one of two processes recognized by the League for adding to or changing an official LWVUS position (as published in the biennial Impact on Issues). The first is sometimes called the "marathon" as opposed to the "sprint" described in #2.
"The Marathon." One alternative is to run an official STUDY on a nationwide basis, usually at least 2 years' work, involving League representatives from many states on the Study Committee and all 50 states plus DC in a full consensus process, League by League.
"The Sprint." A faster, less laborious alternative is for any League, including LWVUS, to adopt or update an already created position by Concurrence. It involves offering a local or state League position (adopted after rigorous study by that League) to delegates at a LWVUS Convention. A 2/3 majority vote is required to adopt the concurrence.
Note: The concurrence process can also be used by individual states to adopt a position developed by another League. In fact, the CT Broadband position had been adopted previous by two other states: New Mexico and Tennessee.
3. The materials made before Convention are still useful now, in particular, the educational webinars to support the proposals are still relevant. For Healthcare, the video and slides of the educational webinar by members of the NYS Healthcare Update Committee (HCUC) Judy Esterquest and Barb Thomas presented to the LWV Colorado Health Care Committee on 2/5/22 are available for others to use: link for video https://www.youtube.com/watch?v=uym4AEzwoIo. Link to slides, powerpoint or pdf. (The powerpoint has the "script" in the notes section.) Link to transcript of webinar and Q&A.
Note about Wording of Concurrences: A Concurrence cannot revise or rewrite the language of either the existing national position or the language of the position offered as concurrence. However, language can be added to a US position from another League position, thereby leveraging the work done by another League in studying an issue. The only way to revise the wording of concurrences is through a study and consensus process.
All concurrences offer a "concurrence statement," the language that will become the new position or that will be added to a current position.
Because the LWVUS has a Health Care position from 1993, the LWVNYS concurrence takes excerpted language from the two NYS 2021 positions to add to the current US position. It does not change the position: it can clarify or expand it, but does not change it.
Because the LWVUS does not have a position on Digital Equity, the Digital Equity concurrence statement will become the entire LWVUS position if adopted at Convention.
WHAT IS A CAUCUS?
A caucus is a type of workshop that is held at the national convention, lasts approximately one hour, and deals with a particular topic. Its purpose is to educate, motivate, and engage fellow Leaguers in the work of the League.
We are encouraging everyone to attend two particular caucuses at the 2022 convention, (give titles and the official wordage we are sending to national). Look in your convention schedule for the time and place they will occur.
Due to the COVID pandemic, we have heard that this year's convention will be both virtual and held in person in Denver, June 23-26. Normally caucuses are held in the morning before the convention begins, or in the evening after daily work of the convention ends. However, if the convention is held virtual like it was last year, caucuses may be held virtually a week before convention. LWVUS will keep Leagues and delegates updated to this year's plans as the date approaches.