LEGISLATION
Single Payer/Expanded and Improved Medicare For All
CURRENT FEDERAL LEGISLATION – 117th Congress, 2021-2023
U.S. House of Representatives: HR 1976: formally titled "To Establish An Improved Medicare For All National Health Insurance Program", introduced by Congresswoman Pramila Jayapal, WA, on March 17, 2021, with 121 co-sponsors.

Official government page: https://www.congress.gov/bill/117th-congress/house-bill/1976
Healthcare NOW! description of what HR 1976 would mean: https://www.healthcare-now.org/2021-medicare-for-all/
H.R. 1976 is the most comprehensive single-payer bill ever introduced to Congress. It is considered the gold standard of healthcare legislation.
It improves and expands Medicare to every person in the U.S. and provides the following cradle-to-grave benefits:

primary and inpatient care
hospital and outpatient services
prescription drugs
dental, vision, hearing
reproductive health
mental health and substance abuse services
long-term services and supports
laboratory and diagnostic services
and more

Committees: House—Energy and Commerce; Ways and Means; Education and Labor Rules; Oversight and Reform; Armed Services; Judiciary
Latest Action: House – 03/17/2021, Referred to the Committee on Energy and Commerce, and in addition to the Committees on Ways and Means, Education and Labor, Rules, Oversight and Reform, Armed Services, and the Judiciary, for a period to be subsequently determined by the Speaker, in each case for consideration of such provisions as fall within the jurisdiction of the committee concerned.
This bill is in the first stage of the legislative process. It will typically be considered by committee(s) next before it is possibly sent on to the House or Senate as a whole.
Senate bill: S 4204,Medicare for All Act of 2022, introduced by Sen. Bernie Sanders (VT), was filed May 12, 2022, with 14 co-sponsors. It would establish a publicly-funded national health program that would guarantee comprehensive, high-quality care for all residents of the United States.

Committee: referred to Senate Finance Committee, Ron Wyden, D-OR chair; M. Crapo, R-ID "ranking member"; Subcommittee on Health Care, Debbie Stabenow, D-MI, chair; Steve Daines, R-MT, ranking member.
Video of Senate Hearing May 12, 2022 (link to "Senate.gov" website)

House bill HR 9187 "Save Medicare Act" introduced 10/14/22 by Rep. Mark Pocan (WI). The bill would penalize anyone (including the Centers for Medicare Services) who uses the name "Medicare" for non-Medicare programs. Instead of using the term "Medicare Part C," people should refer to "Alternative Private Health Care programs" in order to "avoid beneficiary and provider confusion as to the status of so-called Medicare Advantage as a profit-first enterprise." 
PREVIOUS Federal Legislation, 116th Congress, 2019-2020
STATE-BASED ADVOCACY
Winning federal support for individual states (or groups of states) to achieve universal health care within their borders has emerged as a companion to the national Medicare for All campaign. Advocates for state-based programs usually favor a national plan, but they see state-based alternatives as stepping stones to a national plan. A State-based Universal Health Care bill (SBUHC HR 5010) was introduced in 2018 to strengthen waivers allowed by Section 1332 of the ACA and pave the way for funding and authority to make state-based Medicare for All/Single Payer legislation easier to implement. Read more…

U.S. House, HR 3775: the State-Based Universal Health Care Act of 2021, introduced by Rep. Ro Khanna, CA, with 24 co-sponsors. https://www.congress.gov/bill/117th-congress/house-bill/3775/text
This bill facilitates state waivers to make state-based plans more viable. Summary and FAQs. It establishes the option for states, or groups of states, to apply to waive certain federal health insurance requirements and provide residents with health insurance benefits plans through a state-administered program. Such programs must cover 95% of the residents in the state within five years and plan benefits must be at least as comprehensive and affordable as the coverage under the equivalent federal program.

For state-based M4A plans, see One Payer States website. Also see Medicare for All Coalition of States Facebook page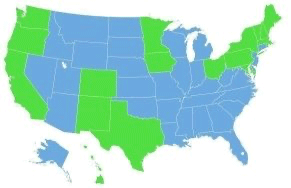 Green states have pending legislation or advocacy infrastructure for State-based Universal Health Care (SBUHC)
THE LEGISLATIVE PROCESS:
A bill must be passed by both the House and Senate in identical form and then be signed by the President to become law.
Bills numbers restart every two years. That means there are other bills with the same number(s) (such as H.R. 1976), so when researching a bill, you need both the bill number and the correct congressional year.
For an informative 4-minute fun chuckle to see how a bill can get stuck in committee (from the bill's point of view), take a look at what California is going through with SB5632…and enjoy singing along. https://drive.google.com/file/d/1YzCOy49BJybiu6wewrn60j6Oj0h6971O/view