LEAGUE POSITION ON HEALTHCARE REFORM
"Impact on Issues," LWV Official Policy Document
The League's statement of support for "a national [program] financed through general taxes in place of individual…premiums" — now also called Improved and Enhanced Medicare for All — is clear.
---
The following points are found in the League's Position on Health Care in Impact on Issues 2020-2022: "Position," pp. 129-131. (Note: Impact on Issues is being updated to reflect the Update Concurrence that was adopted at the 2022 National Convention, which strengthened several aspects of the position reported here. For information on the CONCURRENCE, click here. The new statement is anticipated Feb 2023.)
The League favors a national health insurance plan financed through general taxes in place of individual insurance premiums (p. 129, last line).
The League is opposed to a strictly private market-based model of financing the health care system (p. 130, line 6).
The League supports increased taxes to finance a basic level of health care for all U.S. residents, provided health care reforms contain effective cost control strategies (p. 130, line 9)
The League believes that the ability of a patient to pay for services should not be a consideration in the allocation of health care resources (p. 130, par. 6).
---
The Healthcare History (Impact on Issues, pp. 131-134) qualifies several elements of the position.
Specifically, the History section describes the position as supporting single-payer health care:
"The League position calls for a national health insurance plan financed through general taxes, commonly known as the "single-payer" approach." (p. 132, line 5)
The text continues:
"As an important step toward a national health insurance plan,…the position also supports an employer-based system [IF] it provides universal access to care."
The History section also constrains the League's support for cost controls listed in the Position, explaining
"Copayments and deductibles are acceptable cost containment mechanisms only if they are based on an individual's ability to pay. In addition, cost containment mechanisms should not interfere with the delivery of quality health care."
These constraints apply to other cost-control methods in the position — such as the use of managed care, utilization review of treatment, and mandatory second opinions. Subsequent public policy research and three decades of empirical data now recognize that these methods have formalized barriers to equitable care, reduced universal access, worsened quality by delaying care, and increased administrative costs by increasing complexity.
History of LWVUS Healthcare Advocacy. In the 1990s, the League testified before Congress and joined with other groups in amicus briefs, wide-spread community education programs, and other actions to promote universal coverage. In 2010, the League supported the passage of the Affordable Care Act (ACA) and has fought its repeal.
Events since 2020, however, have exposed tragic shortcomings of the ACA and other reform efforts based on for-profit insurance: the coronavirus pandemic has deepened racial disparities in healthcare and for-profit business models have severely weakened our public health infrastructure.
Under the ACA, for-profit insurers have achieved record profits while medical costs have continued to rise many times faster than wages, and health outcomes for Americans have worsened. In the pandemic, the US, with only 4% of the world's population, has suffered 16% of its deaths. The ACA has not provided a path to universal and affordable healthcare, nor sufficient investment in public health to fight the coronavirus.
Current Opportunities for LWV Healthcare Advocacy
HCR4US proposes that the League remains true to its stated goals when it advocates strongly for Single Payer/ improved Medicare for All.
Steps LWVUS has taken in the past:
Testifying before Congress,
Joining coalitions to support bills (like HR 1976) that propose single-payer programs,
Supporting grassroots reform efforts within the League and with League allies.
All of these actions remain important contributions toward achieving the League's goal of universal, comprehensive, high-quality care that is affordable for the individual and sustainable for the country.
---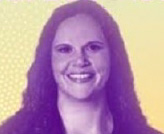 Watch a two-minute clip with statement by LWVUS Director of Government Affairs, Jessica Jones Capparell, in response to a question during an LWV-MA program April 2022: Q: "Does the League support a Medicare for All system of health care?" A: Yes!
---
Unprecedented growth of PRIVATE EQUITY INVESTMENT in Health Care makes the LWV position on PRIVATIZATION relevant to Health Care Advocacy.
In addition to failing to achieve goals of the League's Health Care Position, the current "financialization" of health care violates the guidelines of the LWV position on Privatization. Full wording of the 2012 position from pages 63-64 of the 2020-22 Impact on Issues can be found here. The position does not categorically oppose "the transfer of governmental services, assets, and/or functions to the private sector," as long as "transparency, accountability, and preservation of the common good" can be ensured. The need to safeguard public health is highlighted with this warning:
Privatization is not appropriate when the provision of services by the government is necessary to preserve the common good, to protect national or local security or to meet the needs of the most vulnerable members of society.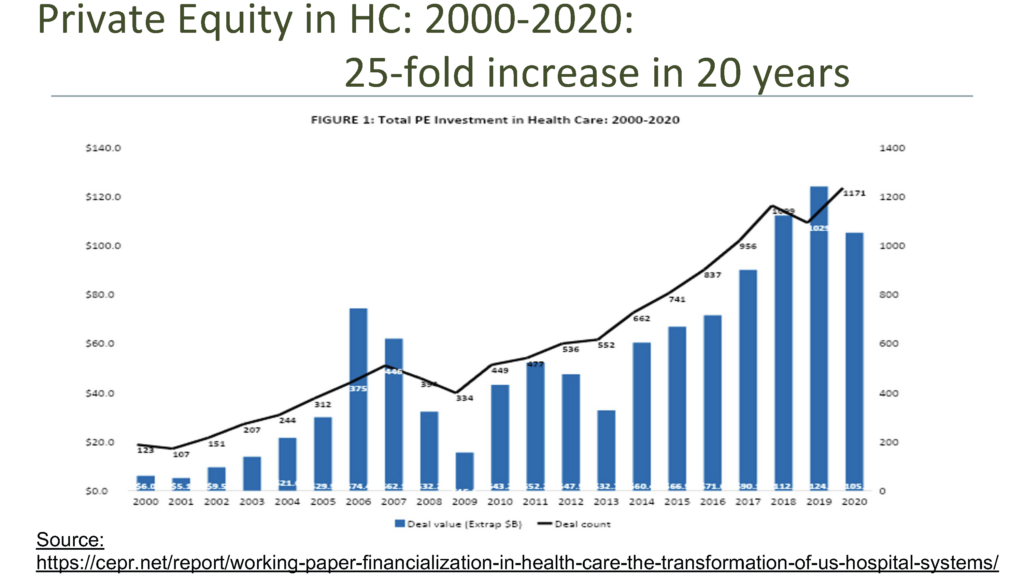 Private Equity (PE) investment in health care has made the sector 2nd only to Apple and Amazon in profitability, but NOT health care excellence. More and more studies describe the rapid decline in quality of care and outcomes.
The fallout from PE, sometimes called "vulture capitalism on steroids," is gaining more media attention. The statistics on health outcomes are grim. The HCR4US YouTube channel has two videos (so far) of programs detailing the troubling trend.
"How Private Equity Makes Us Sicker," 10/18/22 PNHP NY-Metro Forum. The video is 90 minutes, but we have put "timestamps" under the video for each of the sections: Overview J. Esterquest; Speakers Rosemary Batt, Professor of Industrial and Labor Relations, Cornell; Robert MacNamara, MD, Am. Acad. of Emergency Medicine; Richard Mallot, JD, LongTerm Care Community Coalition; then Call to Action and Q&A. The section by Professor Batt gives a detailed description of how the "private equity business model" works to dismantle the assets it acquires, so we have pulled out her section as a separate video (25 min). Or Download Slide deck.
"Medicare for All Congressional Caucus" 9/20/22, hosted by Reps. P. Jayapal and D. Dingell. Subtitle: "[how] private entities are profiteering in our current healthcare system and how Medicare for All would stop that." With guests Eileen O'Grady, Private Equity Stakeholder Project; Don Berwick, former head of CMS; Susan Rogers, PNHP President; Eagen Kemp, Public Citizen; Cathy Kennedy, RN, National Nurses United. Timestamps are found below the title of the film. Each of the main speakers had 2 segments. Look for the timestamps below the title to jump to a specific place in the video.
---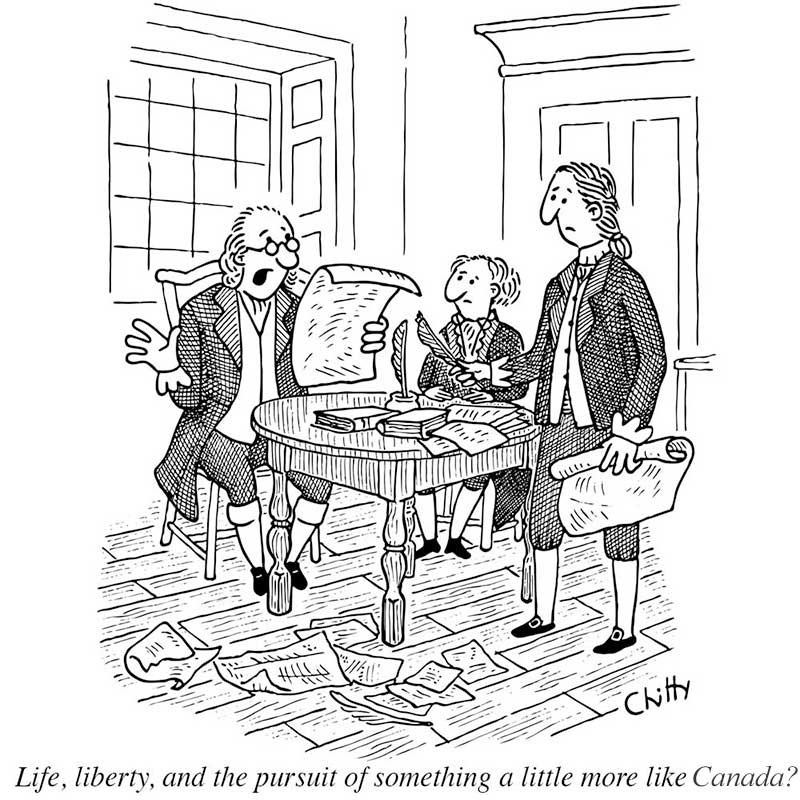 State and National LWV Resolutions, Studies, and
Other Documents on Health Care Reform
2021 Developments

New NY State Healthcare Positions, on healthcare and the financing of healthcare. In 2020, the New York State League Healthcare Positions Update Committee (2019-2021) proposed two new positions to replace the two NYS positions adopted in 1991. The committee submitted the new positions to all Leagues in the State and facilitated the Consensus Process. In March 2021, Both new positions were formally adopted.

Highlights of NYS new Healthcare Positions (2021) — changes from the 1991 positions

Changes to guidelines for safe staffing, public health disparities, and comprehensive care (including vision, dental, hearing, and long-term care) without any financial barrier to access.
Separating insurance from jobs: "funding supported in part by broad-based and progressive state income taxes with health insurance access independent of employment status."
Supporting state-based universal single-payer healthcare (in the absence of a healthcare financing system that includes all residents of the United States).
Creating a healthcare trust fund managed by the NY Health Trust, that operates in a similarly efficient fashion as Social Security or Medicare trust funds.
The full packet of the Study materials from the Update Committee is available here, and the "executive summary" with footnotes is here. Note that no cost-control measures in the NY position are in opposition to the LWVUS position, but constraints would preclude supporting some LWVUS cost-control methods. (Appendix C covers Cost-Sharing.)
The Study Materials (available here) (Appendix C covers Cost-Sharing)
Formation of a National Rural Affairs Caucus, with an initial focus on Healthcare.

Based on the Rural Caucus of LWV-NY, HCR4US invited League members from around the country to enable resource sharing, consultation, and collaboration among Leagues and League members in rural areas. It aims to encourage the formation of MAL Units and League Chapters in rural areas to increase the League's advocacy and education outreach, and also focus the attention of state Leagues on the needs of residents of rural areas.
The form to express interest can be accessed here: Rural Affairs Caucus Interest form For more information, or to receive the summary of the first 60 responses, contact the RAC leader, Kathleen Stein at this email: lwv.rac@gmail.com
2020 Health Care Caucus (to be added)
2019 Medicare for All Resolutions at State Conventions
2015-2016 LWVUS Position broadened to include full access to behavioral healthcare.

In 2015, LWV of Colorado finished an official study on Mental Health Care in Colorado, and petitioned the state League to include access to Quality Behavioral Health Care in their Health Care position statement. Their 45-page study includes: need for services, Colorado's current service delivery system, stigma and barriers to effective service delivery, and new and promising practices.
To access the LWV-CO study materials and the Behavioral Health Position, download from the LWV-CO website or the LWV-US "clearing house" (Go to Social Policy, Mental Health Care, Studies, 2015 Colorado Behav. Health Study) https://sites.google.com/a/leagueofwomenvoters.org/clearinghouse/home
In 2016, LWV-CO presented the state's new position to the national League, which adopted it "by concurrence" at the national convention.

2010 LWVUS Resolution passed by delegates at the National Convention calling upon the LWVUS leadership to advocate strongly for Improved Medicare for All legislation
LWV ROLE in UNITED NATIONS GLOBAL UNIVERSAL HEALTH CARE INITIATIVES
Since 1945 (under President Truman), LWV has been an official consultant organization to the U.S. United Nations Delegation supporting global UN social and economic initiatives. LWV-UN Observers sit at public meetings of the UN Economic and Social Council, and give input to the Delegation. Read more…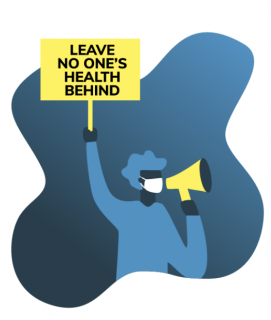 Annually on December 12, local Leagues advocate in concert with the UN on behalf of millions around the world without access to adequate health care. Find out more… (Official UN Universal Health Coverage Day here)
Health Care Reform for the U.S. (HCR4US) Google Group/Network:
History of HCR4US 2005 to the present

Directory of States in our network: Contact HCR4US to find fellow advocates in your state or add your state to our network:

Alabama, Alaska, Arizona, California, Colorado, Connecticut, District of Columbia, Delaware, Florida, Georgia, Idaho, Illinois, Indiana, Iowa, Kansas, Kentucky, Louisiana, Maine, Maryland, Massachusetts, Michigan, Minnesota, Missouri, Montana, Nebraska, Nevada, New Jersey, New Mexico, New York, North Carolina, Ohio, Oregon, Pennsylvania, Rhode Island, South Carolina, Tennessee, Texas, Utah, Vermont, Virginia, Washington, West Virginia, Wisconsin, Wyoming

Link for Minutes of monthly calls from Dec 2018 to the present
How to JOIN. Use the HCR4US Contact form to join the network.
Check out our page to help you…
GET INVOLVED – Suggestions for individuals and local Leagues