As of 2022, there are so many resources supporting Single Payer, Medicare for All and helping people advocate for it, that it becomes somewhat bewildering. We have a small list below, plus made one whole page to list allied organizations, many of which have documents and presentations that they make freely available. The resources here are not exhaustive, but represent materials that Leagues made or have found helpful. If you would like to suggest additions (or subtractions), please contact the LWV Google Group, Health Care Reform for the U.S. (HCR4US).
DOCUMENTARIES/MOVIES—BOOKS—HANDOUTS—POWERPOINTS TOOLKITS—ALLIES (ORGANIZATIONS)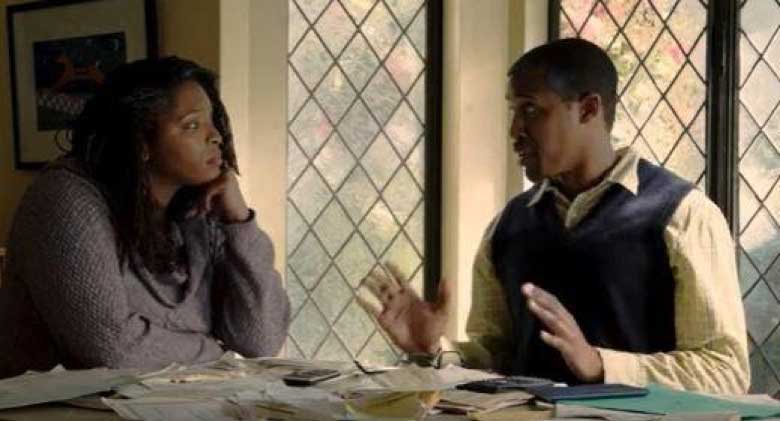 MEDIA: DOCUMENTARIES/MOVIES/VIDEOS/CLIPS
The first six "FIXIT" documentaries can be found at https://fixithealthcare.com/. The FIXIT movies have extensive (and useful) footnotes, available at https://fixithealthcare.com/about/movie-footnotes/

FIXIT Healthcare at the Tipping Point
Big Pharma – Market Failure
Canadian Health – Debunking the Myths
Big Money Agenda – Democracy on the Brink
Medicare for All – How Do We Pay for It?
Medicare for All – Uncovering the Truth

"The Healthcare Movie" –http://thehealthcaremovie.net/home/
"The Time is Now – Healthcare for Everybody" – facebook.com/NowistheTimeMovie/
"InHospitable" – compelling story of profit-first tactics of so-called non-profit community hospital. https://www.youtube.com/watch?v=6-Sq_IozI08
"Find the Common Ground", Ed Weisbart, MD, a speaker and instructor for Physicians for a National Health Program, spoke to LWV HCR4US on June 16, 2020, about how to tailor your communication to a conservative audience, whether one person or a room-full. https://www.youtube.com/watch?v=1Ph95zfRvE4&feature=emb_logo
"Progressive Persuasions: Speaking Beyond the Choir", Ed Weisbart, MD, PNHP-MO, Webinar (playback)
"Medicare for All Means Choice", Abdul El-Sayed, MD
Cartoons from Healthy California Campaign–We have permission to share these "schoolhouse rock" type animations freely, or modify to represent your state. "The Middleman", "Better than Before", "Less" , "Piece of Legislation".
Public Service message for Medicare for All, "Harvey & Laverne" https://www.youtube.com/watch?v=MxGrDqygLUw. Using a formula from prior anti-Medicare for All campaigns in the 1990s (Harry and Louise), a young couple goes through the unfavorable myths about M4A, one by one. See the paperwork in the foreground of the picture (above)? Guess where it ends up.
Classic public service message on "the single, most powerful concept Public Health has to offer" from WHO, the World Health Organization: "Universal Health Coverage: Right, Smart, and Overdue." (2.5 minutes) Watch on YouTube.
See what's posted at the LWV Health Care Reform YouTube channel https://www.youtube.com/c/LWVHealthCareReform
RECOMMENDED READING
Click a book cover to visit book description page.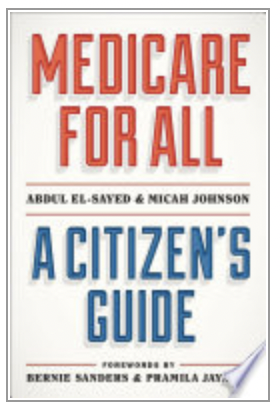 SONGS
HANDOUTS & CHEAT SHEETS
(some documents in Word format as well as pdf so you can edit them more easily for your needs)
From LWV-La Plata County (CO)
---

---
---

This PNHP card for a national program will be useful in the other 49 states.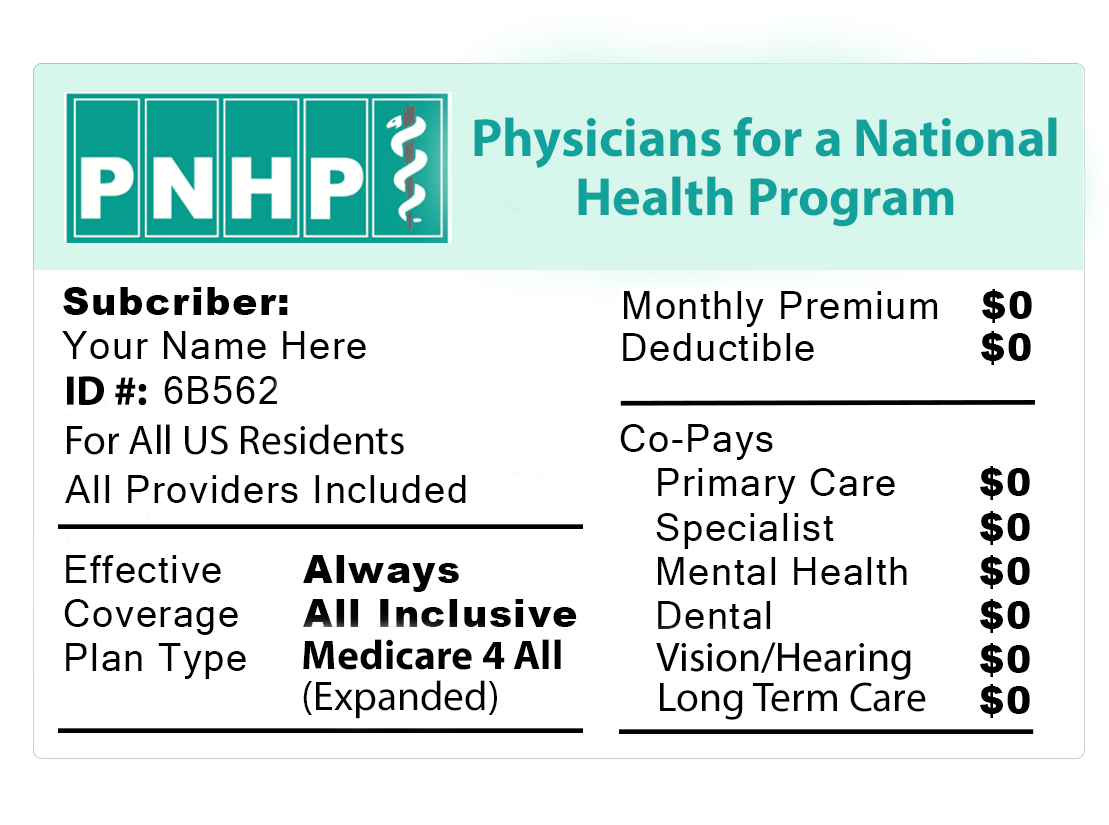 PRESENTATION VIDEOS (to share)
PLACE HOLDER FOR LONG VERSION OF HOW PRIVATE EQUITY MAKE SICKER
LONG VERSION OF PNHP DATA UPDATE
PRESENTATION POWERPOINTS (to share)
TOOLKITS (and Other)
Organizing "Tool Kit" for Activists – Steps to Pass a Municipal or Town Resolution in Support of Improved Medicare for All
Don McCanne "Quote of the Day" , now called the "Health Justice Monitor," with an expanded editorial board (Jim Kahn, Steffie Woolhandler, David Himmelstein, Adam Gaffney, Eagan Kemp and others). You can subscribe and also view the archive at the link.
ORGANIZATIONS
The websites of these organizations have particularly rich treasures for the activist. Check 'em out.